Fri 12 October 2012
TelstraClear Events Centre, Auckland
About
It was an unforgettable evening with the Honourable Al Gore, 45th Vice President of the United States, who spoke live at this rare New Zealand appearance about "Leadership in a Changing World".
A giant figure on the world stage, Al Gore is widely recognised for his profound positive impact on the future of humanity and for highlighting the business opportunities presented by sustainability.
In Auckland, Vice President Al Gore spoke about leadership, innovation, sustainability, reinvention and the challenges facing global economies and businesses.
The Honourable Al Gore is:
45th Vice President of the United States
A Board Director of Apple, the most valuable company in the world
Senior Advisor to Google
Nobel Peace Prize Winner and Academy Award Winner
Chairman, The Climate Reality Project
Chairman, Generation Investment Management
Fundraising Auction Recipient
AUT University
This event helped AUT University to establish an international internship scholarship programme, which was a first for New Zealand. The scholarships provide a once-in-a-lifetime opportunity for students to expand their learning and put their skills into practice in an international context. A unique gift for the future leaders of our changing world.
About Al Gore
About Al Gore
45th Vice President of the United States
Author, An Inconvenient Truth (which is also a major motion picture)
Chairman, Current TV
Chairman, Generation Investment Management
Vice President Gore's political career began when he was elected to the U.S. House of Representatives in 1976 where he served eight years representing the then 4th District of Tennessee. He was elected to the U.S. Senate in 1984 and was re-elected in 1990. Al Gore was inaugurated as the 45th Vice President of the United States on January 20, 1993.
During the administration, Vice President Gore was a central member of President Clinton's economic team - helping to design the program that led to the strong US economy, casting the tie-breaking Senate vote for the plan in 1993, helping to pass the first balanced budget in 30 years.
Vice President Gore served as President of the Senate, a Cabinet member, a member of the National Security Council, and as the leader of a wide range of Administration initiatives and took the lead in reinventing government to make it cost less and work better.
Since his days in the House and Senate, Al Gore's environmental record is unparalleled. His pioneering efforts to protect the earth's ozone layer and to clean up toxic-waste dumps were outlined in his bestselling book Earth in the Balance: Ecology and the Human Spirit (1992). He led the Clinton Administration's efforts to protect the environment in a way that also strengthens the economy - such as working with the Big Three auto makers to support the development of a new generation of fuel - and energy-efficient vehicles, and working to combat global warming in a way that also creates new jobs, by helping America lead the estimated $400 billion worldwide market for new technologies that clean up the environment.
On Nov. 9, 2004, Mr. Gore was appointed Chairman of Generation Investment Management, a new London-based fund management firm that plans to create environment-friendly portfolios. Mr. Gore is also Senior Advisor to Google, Inc., serves on the Board of Directors of Apple Computers, Inc. and is Chairman of the recently launched and successful Current TV, a cable television network aimed at 18 - 24 year olds which is best described as a cross between MTV and CNN.
In his speeches, Al Gore draws on his 25 years of public service to offer a unique perspective on national and international affairs. Vice President Gore addresses:
The Environment
The Future of the World
New Business Management
The Future of the Economy
Communications and Technology
National Security
Clash of Civilizations: Islam and Judaism
Family Issues
Mr. Gore resides in Tennessee.
Vice President Al Gore
Keynote Speaker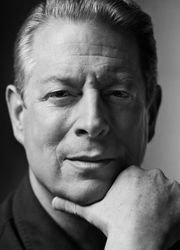 John Campbell
Master of Ceremonies